SANMA KABAYAKI (Broiled Mackerel pike)
さんま蒲焼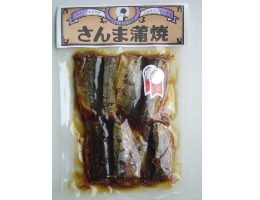 This is a tsukudani using "Sanma", one of the most popular fish in Japan, beautifully marinated with special sauce. Similar to eel, sanma is also mostly cooked as "kabayaki" (where the fish is split down the back or belly, gutted and boned, butterflied, cut into square fillets, skewered, and dipped in a sweet soy sauce-based sauce before being broiled on a grill).
| | |
| --- | --- |
| Preservation method | Room temperature |
| Best by | Shel Life 6manths |
| NET | 140g |
| Quantity | 20 |
| Case size | 50cm×30cm×11cm |
How to use
It is very convenient as you may enjoy it as it is with no further preparation needed. It does not only go well with rice, it is also perfect to serve with Japanese sake. If you want to easily enjoy a taste of Japan, this is a simple way to do so.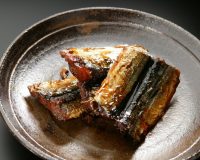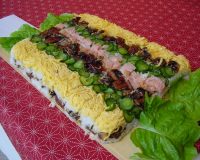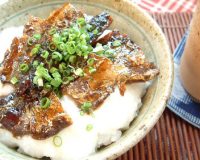 Recipes using "SANMA KABAYAKI (Broiled Mackerel pike)"