Shirasu Candied Tomatoes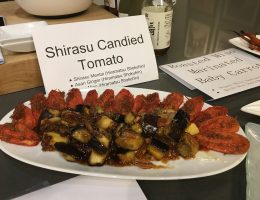 Ingredients to prepare
Italian Plum Tomatoes
2000g
STEP1
Score the tomatoes and blanch in salted water
STEP2
Shock in an ice bath, and remove the skins
STEP3
Cut the tomatoes into quarters, and remove the seeds.
STEP4
Warm the mentai with the water until smooth and a little loose
STEP5
Toss the tomato pcs in the mentai and arrange on roasting rack.
STEP6
Place in an oven on high fan at 180 degrees
STEP7
Allow to dehydrate for 4 hours.