KINTOBI NAGOYA KISHIMEN
金トビ名古屋きしめん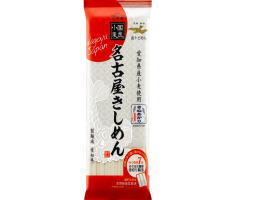 100% Aichi Prefecture made "kinuakari" wheat is used. It is a traditional noodle with wide surface, bright and smooth like silk with a unique chewy texture. In order to prevent the kishimen noodles sticking together, we make the length and width of the noodles uneven, reducing the surface area of the dried noodles with our "wave cutting method".
| | |
| --- | --- |
| Preservation method | Room temperature |
| Best by | Shel Life 2years |
| NET | 250g |
| Quantity | 20 |
| Case size | 22.5cm×36cm×10cm |
How to use
In a big pot with plenty of hot water, slowly and gently put in the kishimen noodle little by little. Boil according to the cooking time instructed and then you may serve it warm or cold as you like.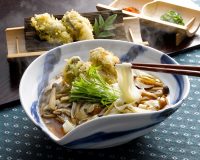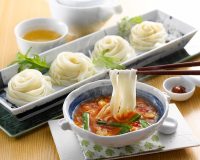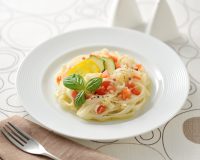 Recipes using "KINTOBI NAGOYA KISHIMEN"